The Fastest Way to Transform Your Business Mindset.
The FRANCESCO VITALI PODCAST is a brand new podcast series created by Francesco Vitali that will launch in September of 2023.
If you're an entrepreneur or business owner looking to take your mindset to the next level, this podcast is for you!
During each episode, Francesco will share his personal experiences and insights on cultivating a growth mindset, overcoming limiting beliefs, and developing the resilience necessary to succeed in business.
Franko will also explore practical strategies for goal setting, time management, and productivity and ways to build solid relationships and networks within the business world.
To further enhance the value of the podcast, Francesco will also be inviting successful entrepreneurs, thought leaders, and experts to share their own stories and practical tips for achieving business success.
With their guidance and Francesco's personal touch, "The Francesco Vitali Podcast" is sure to be an engaging and inspiring resource that will help you take your business to the next level.
So mark your calendars for September 2023, and tune in to the Fastest Way to Transform
Your Business Mindset on all platforms. Whether you're just starting or a seasoned pro, this podcast is the perfect way to cultivate the mindset you need to succeed in business and life.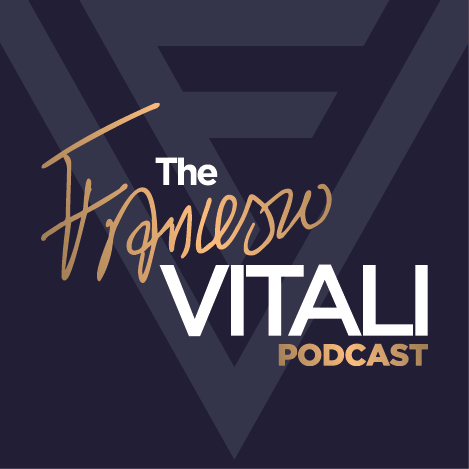 IN THE FRANCESCO VITALI PODCAST
Get up close and personal with Franko like never before.
Join him on a journey behind the scenes in real-time as he welcomes you into his life and shares his experiences with you.
While he may be known as Francesco to many, best friends call him Franko.